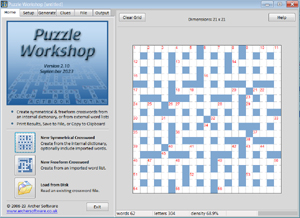 Version 2 of the program can do everything that Version 1 can do, but can also create newspaper-style crosswords from an internal dictionary, by auto-filling grids of pre-defined word slots. Grids are square in shape, with the words slots arranged symmetrically across the diagonals.
Feature List
Comes with around 200 stock grids, from 7x7 to 27x27 squares in size.
Includes a built-in dictionary of some 60,000 words and phrases.
Can generate any number of alternative fills with a single mouse-click (up to several thousand).
Add clues manually, or import them along with a word list.
Can mix dictionary words with imported words/clues (from a file or the Windows clipboard).
Customise the dictionary - word-frequency in written English, parts-of-speech etc.
Around 20% of the dictionary words/phrases are assigned to Subject Categories, some of which have example, 'place-holder', clues already assigned. Words in Subject Categories can be viewed and selectively switched on/off.
Can replace words in a completed grid.
Save the filled grid as a .xwd file for later use.
Print any combination of empty grid, filled grid, clue list, answer list etc.
Save the output to a Rich Text or HTML file.
These pages demonstrate how the program can be used to create a finished crossword.